Come and explore the Highlands of Scotland by bike. We've been helping people with their Scottish cycling holidays since we hired out our first bike in 2007. Since then we have grown the bike hire fleet, expanded the team and developed new transport, luggage storage and bag transfer services for cyclists and walkers.
We are a small team with a broad range of cycling experience. Our hard work and honest advice has been recognised in many five star reviews on sites like Tripadvisor.
"We want you to enjoy cycling in Scotland as much as we do."
It is great to be back at work helping cyclists explore the Scottish Highlands again. Everything is taking a little longer as we get used to physical distancing and enhanced hygiene measures. We're also working with a smaller team to stop the workshop getting crowded. Please bear with us, we are not taking any shortcuts but we are still smiling - behind our masks - you'll have to take our word for it.
You can help us by:
booking ahead
using online booking and email whenever possible
phoning only when urgent
wearing a face covering during bike setup
being aware of signage
observing good hand and respiratory hygiene
It's hard to answer the phone at times but colleagues working remotely can usually deal with emails quite quickly. We mostly meet customers outside but during handover 2m can be tricky so face coverings are beneficial.
Many of our customers have planned their trips using our information for self-guided Scottish cycling holidays. Our suggested itineraries are now being updated with smartphone app navigation from RideWithGPS and improved tools to find accommodation for cyclists.
There are many ways to plan a cycling vacation in Scotland. You can do all your own research and route planning, use our suggested routes and accommodation finder or book through our tour operator partners for the full package tour service. All our cycling holiday itineraries >>>
4 - 14 days
Road or Hybrid Bike
On Road
Very hilly
Bag transfers unavailable
3 days
Mountain Bike
Off Road
Very hilly
Bag transfers recommended
6 days+
Road or Hybrid Bike
On Road
Hilly
Bag transfers unavailable
Our bike hire service in Inverness is at the core of everything we do. We are bike hire specialists, dedicated to providing great quality bikes of the right size and right type for your adventure. Our bikes are new each year and serviced methodically betwen trips by our team of qualified bike mechanics.
Booking ahead is strongly advised to make sure your choice of road, hybrid or mountain bike will be ready and wating for you at the start of your Scottish cycling adventure.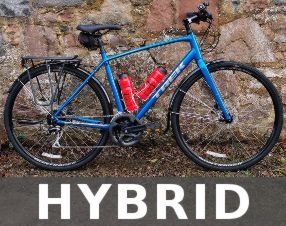 Hybrid bikes are much quicker than MTBs on the road but can cope with well maintained tracks too. They are ideal for a cycle tour of the Highlands. more>>>
Explore farther and faster with our Trek Checkpoint road bike hire. Perfect hire bikes for the North Coast 500 cycle route. more>>>
For the Great Glen Way and off-road routes a mountain bike with disc brakes and suspension will help you keep control when it matters. more>>>
Cyclist Transport
Our bike hire workshop in Inverness is a great start/finish location for many Scottish cycling holidays. For some trips it is a better idea to use our cyclist taxi service to make sure you spend your holiday time efficiently and maximise the cycling time in the best of the terrain.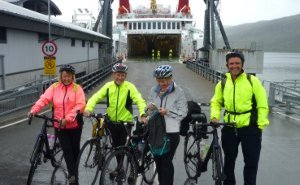 Ferry transfers for cyclists cycling the Hebridean Way NCN780 more>>>
Cyclist transport between Inverness and Durness for the best of the NC500. more>>>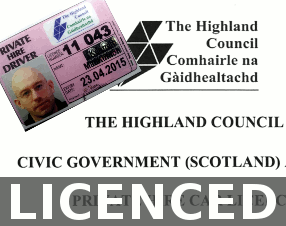 Licenced - Our cyclist transport service is operated under licence to the local authority.
Baggage Transfers | Luggage Storage
Cycling is more enjoyable when you don't have a heavy load to carry. You can leave your suitcases with us and pack light in panniers. On popular routes like Loch Ness 360 or The Great Glen Way we can arrange daily baggage transfers.