If you've never been on a tandem you really should try it. If you have tried a tandem you'll no doubt agree that it's a great way for people of different abilities to cycle together. Tandem riding is what you both make of it, for some it's a gentle ride out to the country for lunch, for others, it is the inspiration to set off in search of adventure. People choose to ride tandems for many different reasons and the benefits of tandem riding are numerous it is romantic and fun.
Our tandems are built with the comfort and reliability you need for your Scottish cycling holiday. The frames are aluminium and the riding positions have a good range of adjustment so most "teams" will be comfortable. The gearing is low to help with the hills and there are disc brakes to keep your momentum under control. The tandems have pannier racks front and rear and bottle holders too.
Racks & Mudguards - Our tandems are fitted with mudguards. There are luggage racks for panniers front and rear and water bottle holders for both riders.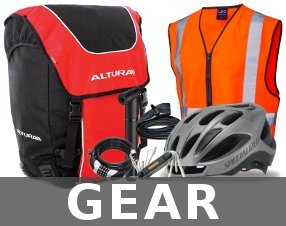 We include the essential equipment and spares you might need for safety and quick fixes. Additional accessories are available to hire. more>>>
First day - £50
Two days - £85
Three days - £120
Four days - £155
Five days - £190
One week - £240
Two weeks - £390